3 - 4 - U
Great to see you here!
I am Alev Lenz. I release albums, write songs to picture (Black Mirror, Netflix), get some fab syncs sometimes (DARK, Netflix), lend my voice to movies (Downhill , The Old Guard, Im Winter Ein Jahr) and I produce records. - the latest being a co-production with the incredible Anoushka Shankar for her latest album.
This is me: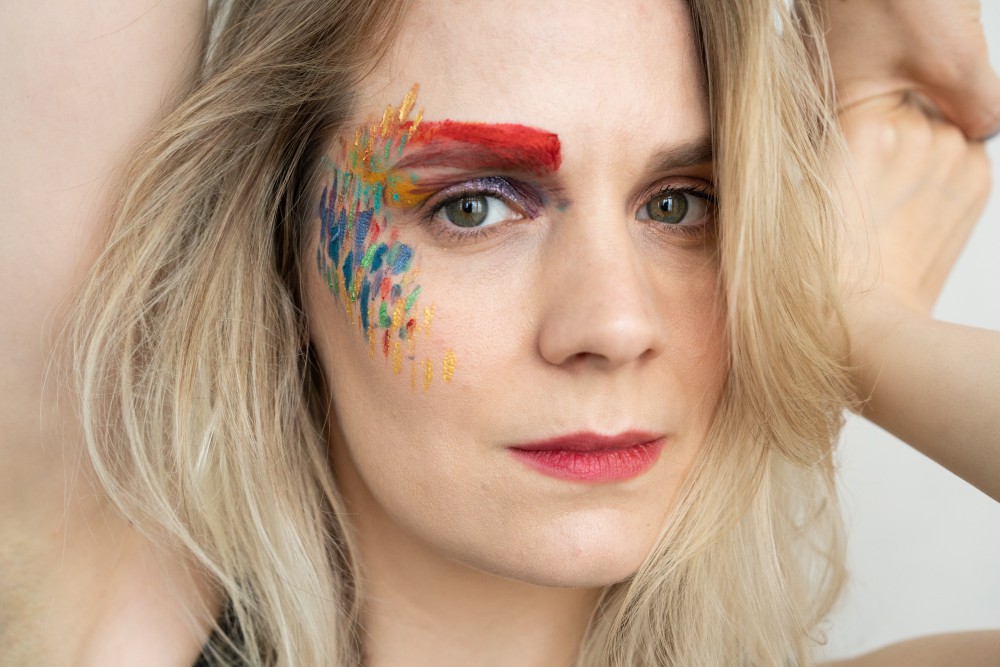 Why free sheet music?
Being stuck at home and not being able to perform my latest album '3' in 2020 as planned, with different choirs in each city, around the globe made me realise: I mainly wanted this music to travel on it's own!
My biggest wish is for you to take this music and perform it! At home, with your friends, your choir, in a circle, in class, marching the streets.
Who sang it before?
My dream actually came true for the premiere performance of the songs at The Ecstatic Music Festival March 2019 when I got to perform the music with the incredible Brooklyn Youth Chorus. The Youth Chorus now takes 'The Chair' (Incl. in the sheet music pdf which you can download for free below) with them and performs it a capella, without me, for their audiences. This is exactly the journey I had envisioned for the music.
To be able to perform with different choirs everywhere, I already had the sheet music prepared long ago. They came in handy of course when I did get to perform my album with the incredible vocal ensembles Roomful Of Teeth - who already recorded the songs for the album with me - and the London Contemporary Voices.
And again, in a very special rendition which was going to be my last performance before Lockdown at King's Place London, with the London Contemporary Orchestra and also the London Contemporary Voices.
The London Contemporary Orchestra, namely Rob Ames, even took the sheet music to orchestrate the songs! Something you might want to try too? Christian Henson from Spitfire Audio even demonstarted in a video how to add orchestral elements to a vocal track using Albion NEO and my song 'Aimee Mann' (also incl. in the sheet music pdf you are here for ;))! I was thinking of potentially printing it and selling it as merch at concerts or something similar. But, the time at home, thinking about the life of this album and the music on it I decided that giving the music away for free online is much more in the spirit of this album.
Now you!
So here it is. A free pdf download to the sheet music of all a capella pieces of my latest album '3' for you! And the Illustrations in there are by me, made during the inception of this album!
The reason I ask for your email is that it will give me a way to personally connect with you and let you know if I come your way for a concert. If there's something new I can share with you and to build my own community without enriching and ultimately depending on huge cooperations. To connect us. For '3' to become many voices. You will added to a special email list exclusively for sheet music updates. However, you can sign up to my newsletter here.
I hope you are aware, this site intentionally has no cookies. I have no interest in tracking you and I think it is a viciously cute name for a very powerful tool. All I want is to stay connect by means which we consciously choose. That can be music - or an email. I thank you for trusting me with your email address and of course you can also unsubscribe when you get mail from me.
Please enter your email below and you'll receive the free download link to the sheet music pdf for all a capella pieces of my latest album '3'.
xx Alev